Adoption Ministry of YWAM Ethiopia has a women's mission team in Ethiopia right now, serving in many places Adoption Ministry does humanitarian work in Ethiopia. The team is sending blog posts as often as they're able. We haven't received any photos yet so these pictures were taken earlier this year at Kore (Kor'-ay). This post was written on Saturday July 30th.
My name is Jillian and I am a team member from Knoxville, Tennessee. We are taking turns each day updating the blog to share part of this incredible journey with you. First of all, please let me say from the deepest part of my heart and the other team members THANK YOU FOR ALL YOUR PRAYERS… THEY ARE WORKING!!! We are all here – happy, healthy and having a great time serving our Lord. God is introducing us to His Ethiopian children… our brothers and sisters. We are just wrapping up our second full day in Ethiopia. I am not certain how to adequate describe all that we are doing or seeing as I am not sure I yet can fully understand and comprehend how God is working but I assure you that He is. He is here with us, protecting us, providing for us, guiding us, uniting our team, strengthening our bodies, minds and souls as we go through each day.
By the world's perspective and understanding, we would have every right to be full of fear. The fear of disease, the fear of the unknown and unfamiliar and even the fear of inadequacy of being able to do enough to love and serve these people well. Yet I look around and I see no fear; I see faith. I see excitement to go and do whatever God places before us in His strength. We all realize this is way beyond ourselves and our own abilities; this has to be God's show and we are His vessels living in His strength and doing only His will. This morning after breakfast we met for our devotional time (which was an incredible time lead by Elise who is 15 years old and amazing) and during this time we put on the armor of God. We literally stood up and as one read the scripture, we put on the belt of truth, etc. It is beautiful.

After breakfast at the Guest House, our devotional and preparation time, and a wonderful lunch at The Cottege (Ethiopian spelling), we went to Kore. For those who are unfamiliar, Kore is a village built at a landfill by lepers who had been cast out of society.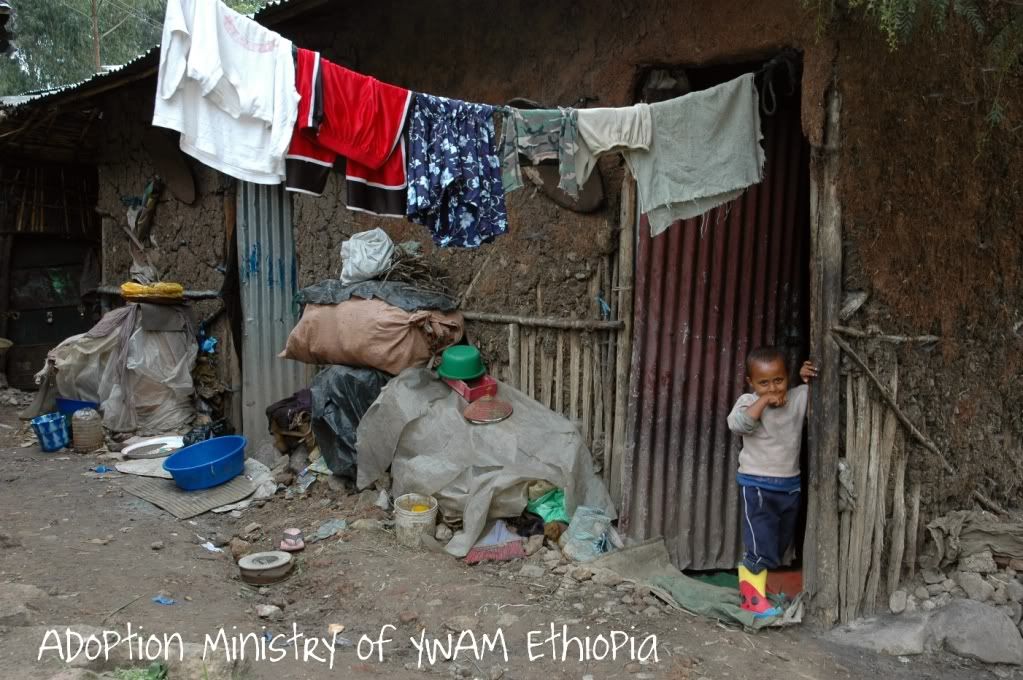 The village now consists of 120,000 people who live in poverty that is beyond our comprehension. We went there because there is a local church lead by Pastor Noonish that Adoption Ministry has been very involved with and supportive of. It is the kind of church you see on documentaries with one room, minimal walls and shelter and people excited for Christ.
We had told them we would come to minister to the women and it is my understanding the women waited hours for us to arrive. They are so humble, welcoming, appreciative and loving. They are beautiful inside and out.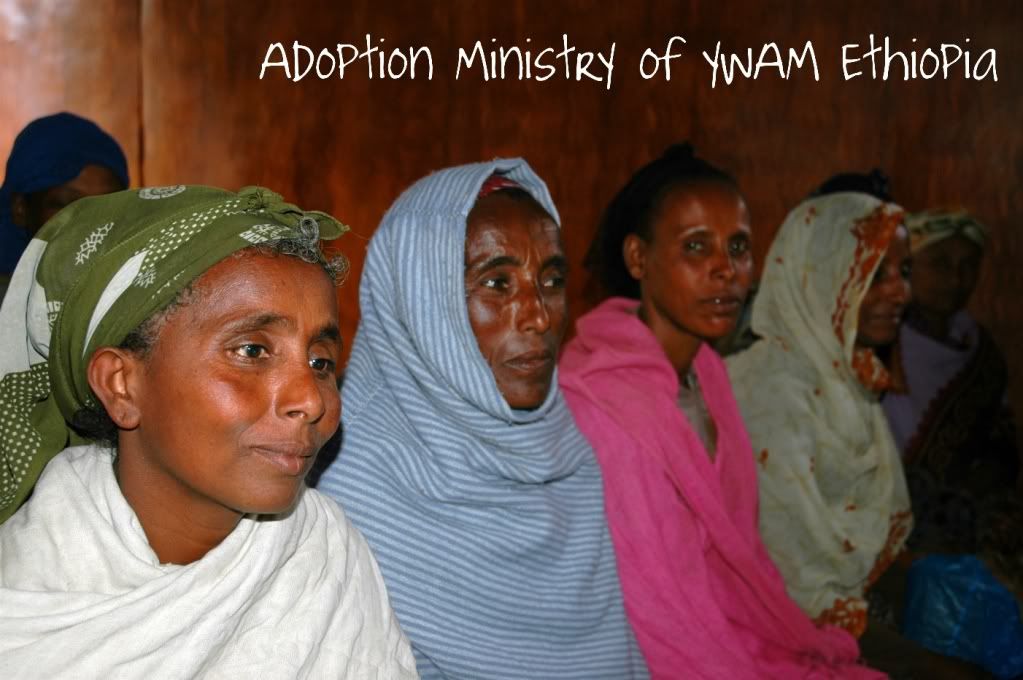 We washed the feet of the women who were shocked that we would come there to love and serve them. We gave communion and gift bags of shirts, skirts, undergarments, socks and hair bands. You would have thought we had just given them a million dollars. We even had people refuse to accept our love and gifts due to feeling unworthy until we assured them it was our blessing and honor to be there with them. There was not an ounce of feeling that the women in the church were there for the items we could bring, though they were the most appreciative; they were simply honored that we would come share our time with them and travel so far to see them. Liane did a wonderful job speaking to the ladies, making them laugh and creating the common bonds of every woman.
After Kore, we went to another nice dinner with couples from the U.S. who are here visiting their soon-to-be adoptive children. We are now back at the Catholic Guest House visiting with each other, getting much-enjoyed and needed showers, relaxing and heading to sleep soon. We are heading back to Kore tomorrow to lead a vacation bible school for the children who are beautiful, smart, adorable and fun.

I want to take this moment to say a special thank you to the most loving and wonderful friends and family in my own life who continuously pray for me and that have so generously gone above and beyond helping me in my preparations to be here.

I love you so, so much.
~Jillian